Ocosta will be doing Child Find Screening for children (birth to 5 years old) on April 21st from 9am-2pm. Please see the attached flyer and/or call (360) 268-9125 ext. 1006 for more information.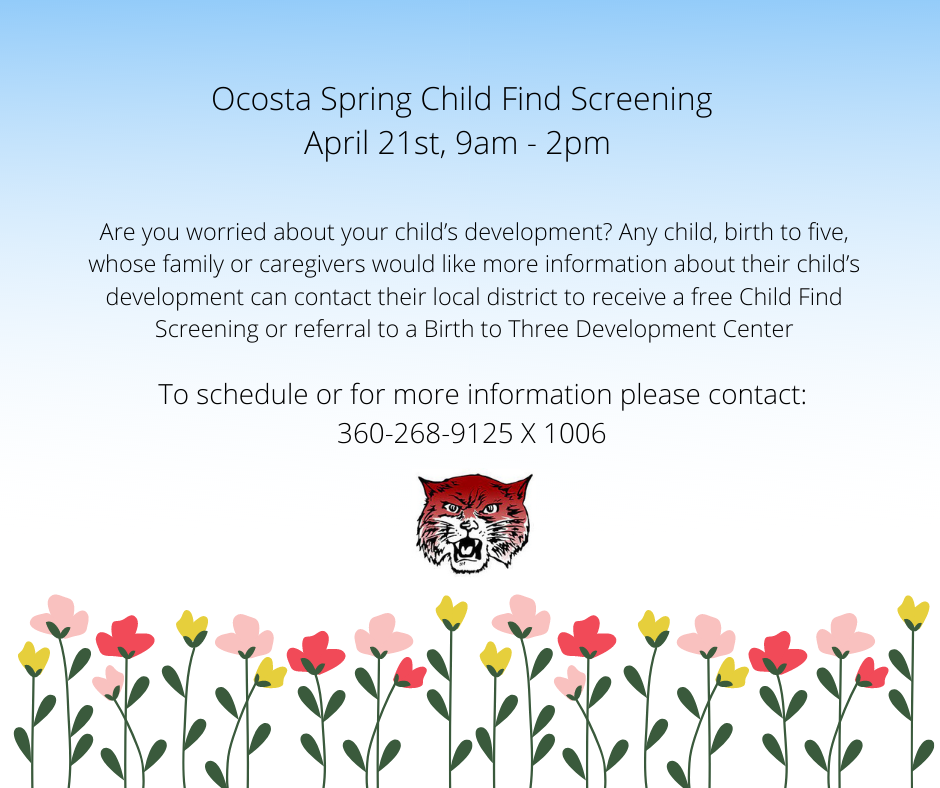 Tonight is Track and Field Senior Night. At 3:30 at our track meet today, Wednesday, we will be honoring our Ocosta seniors. Please come out to the field and support our Wildcats!

On Tuesday night, senior, Trinity White, signed her letter of intent to play soccer at Tacoma Community College and play for the Titans. Trinity chose TCC because of the x-ray technician program as well as their soccer program. Trinity has played soccer at Ocosta for 5 years. Best wishes in the next step of your soccer journey!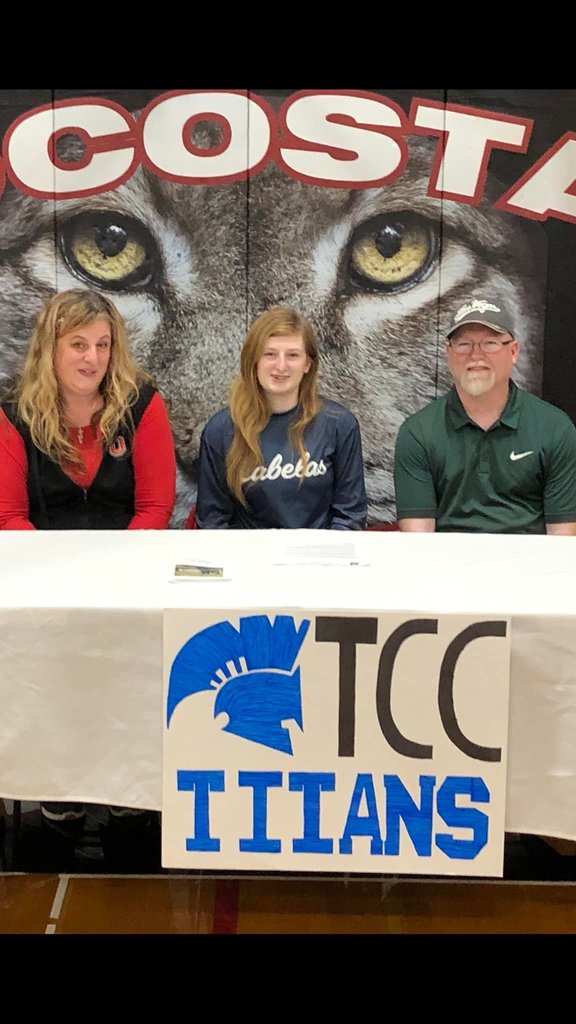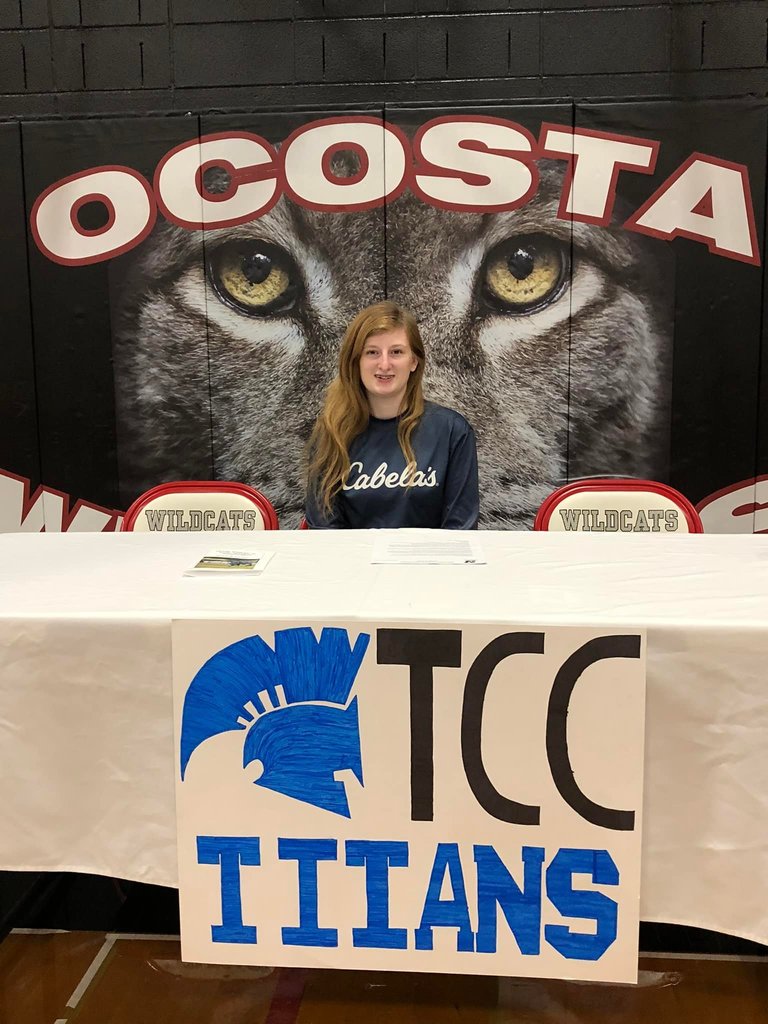 Just a reminder There will be no After School Program the next 2 Fridays (February 18th and February 25th). Students will ride the bus home right after school. No habra programa extracurricular los proximos 2 viernes (18 y 25 de febrero). Los estudiantes tomaran el autobus a casa inmediatamente despues de la escuela.

** Update ** School will be 3 hours late. Route 4 will be 3 hours and 20 minutes late due to driver availability.

Due to current road conditions, school will be delayed two hours, today, January 25. There is nor morning preschool.

Corrected version The following are pick-up sites for student meals this week.  Meal Pick Up Locations for Ocosta students. Tuesday-Friday 10:50 VFW Westaire Trailer Park on Melbourne off of Chehalis 10:55 Grayland Firehall (next to Pomegranate) Ocosta Firehall (John's River Road) 11:05 Shoalwater Bay Tribal Center in Tokeland 11:10 SBC Outreach on Veteran's and Forrest

Keep off of local beaches today. Update from Grays Harbor Emergency Management: **0700 Update: A TSUNAMI ADVISORY is still in effect for Washington Coast. Strong waves and currents are expected. First wave arrival time of 0850. This will be a long duration event. Hawaii observations are seeing some impacts to harbors. Strong waves and boats being knocked around is possible. STAY AWAY FROM THE BEACHES. **0600 Update: An TSUNAMI ADIVSORY is still in effect for the Washington Coast. The highest waves may hit a couple of hours after the first wave. High tide for Westport coincides with this arrival. High tide for Westport is forecasted to be 9.6 at 1030AM. Hoquiam/Aberdeen high tide is forecasted to be 10.4 at 10:53AM. Hawaii observation is 1-2.5 foot waves and some flooding observed. For the Washington coast, there will be beach impact. Stay away from the beaches. DO NOT GO TO THE SHORE TO OBSERVE WAVES. Grays Harbor County Emergency Management just got off a call with Washington State Emergency Division. A Tsunami Advisory has been issued for the Washington coast. A Volcanic Eruption has occurred in the Tonga Island. Tsunami waves have been observed. 1-2ft waves are expected for the Washington Coast with estimated arrival of 0850. Tsunami advisories mean that a tsunami capable of producing strong currents or waves dangerous to persons in or very near the water is expected or is already occurring. Areas in the advisory should not expect widespread inundation. Tsunamis are a series of waves dangerous many hours after initial arrival time. The first wave may not be the largest.

Due to the high number of cases amongst staff and students, the Ocosta School District will be shifting to remote learning beginning, tomorrow, January 13, 2022. We will resume in-person learning on January 24, 2022. Please check your email that was sent home to families this morning.

Our after-school program, Ocosta Lighthouse Project is learning about how to leave less of an impact on the environment. Here are some pictures from "How to Shrink My Footprint."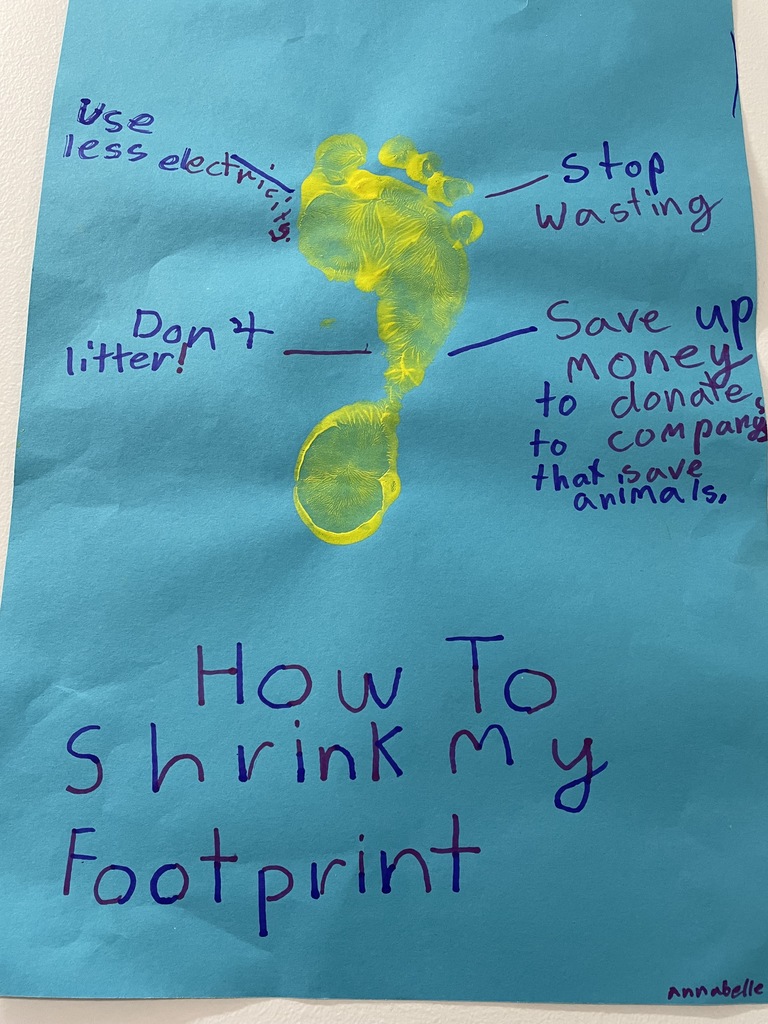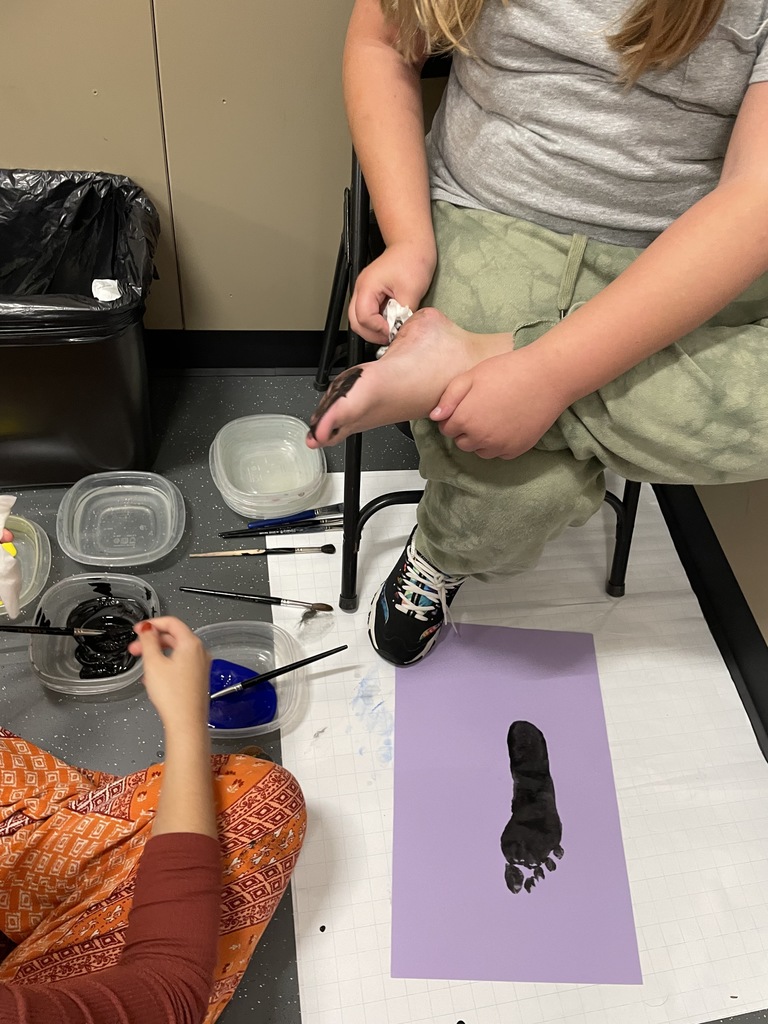 THE GREAT SHAKEOUT Tomorrow, 10/21/21 at 10:21 is the state-wide earthquake drill. You will hear our local AHAB sirens at this time. The school will be participating in a drop-cover-hold drill. Throughout the day, students will go to the tsunami evacuation tower to practice.

Ocosta Elementary had a great week sponsoring Kindergarten Jump Start. Students spent time in the building learning about Ocosta.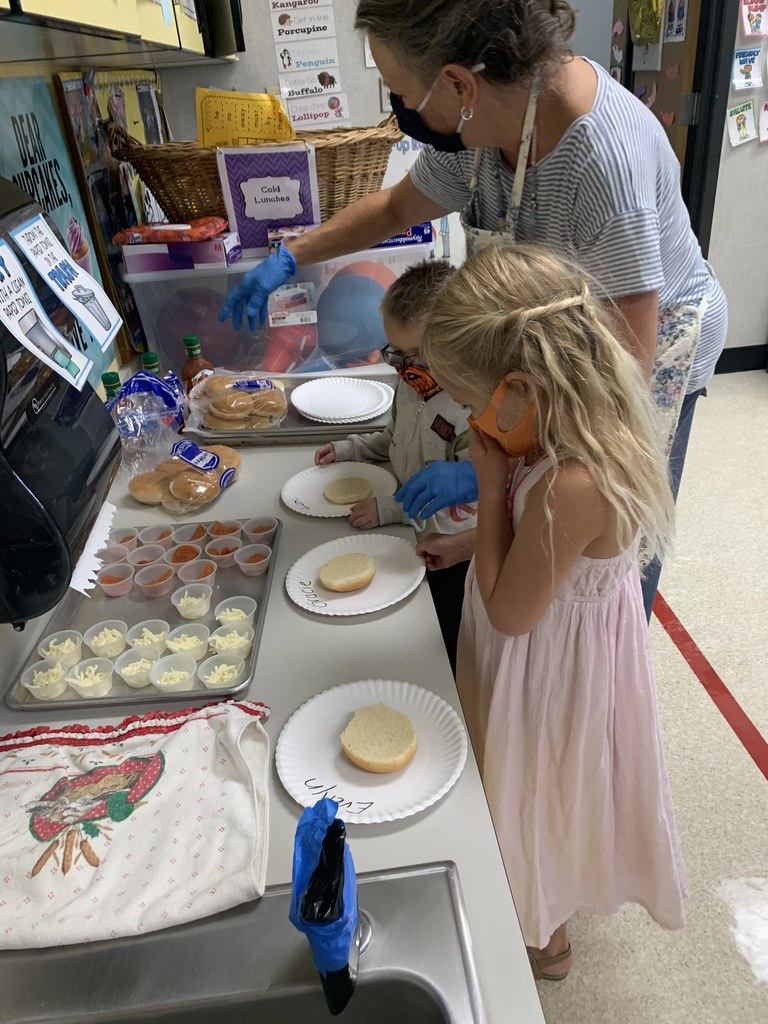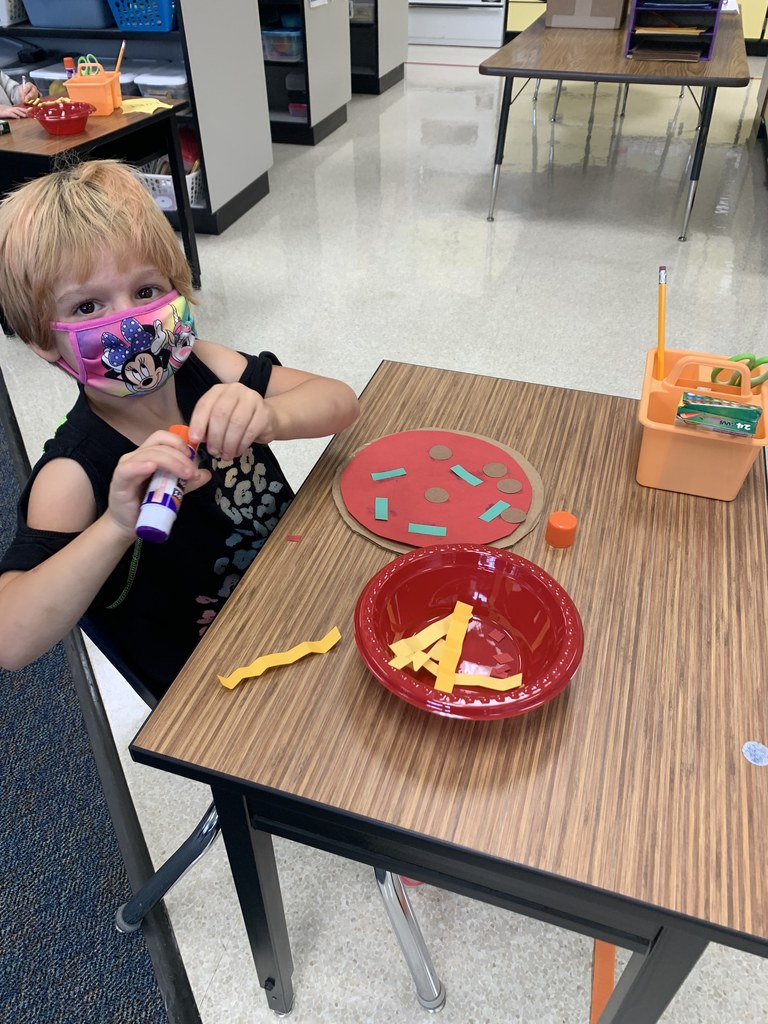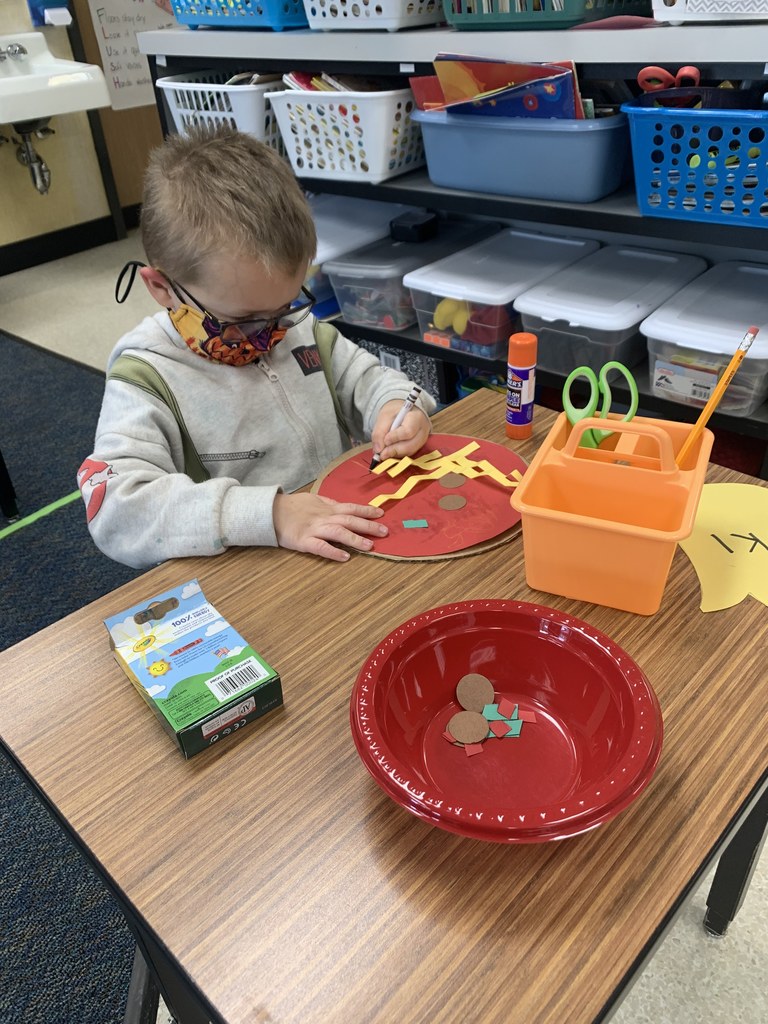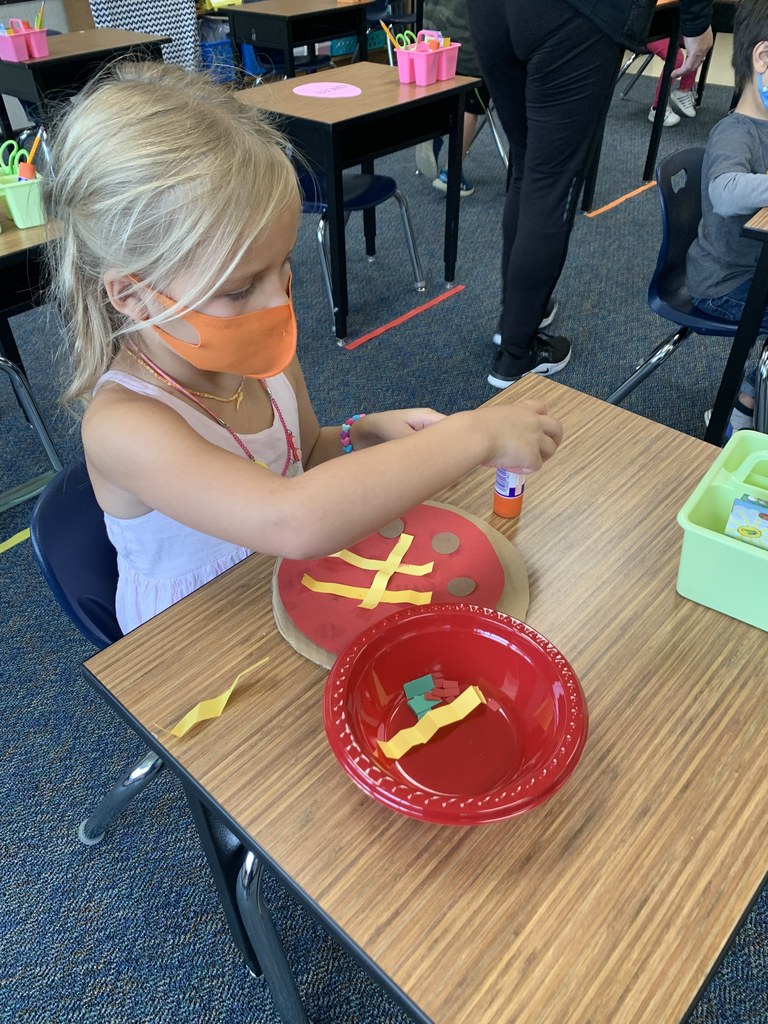 2021 Summer Food Service Program Starting Tuesday, July 6th, at Ocosta Elementary, "Grab 'n Go" meals will be available to pick-up between 11:00am & 11:30am for all children under 18 years old. The Summer Food Service Program will run Monday - Friday, July 6th to July 30th. Contact the school at (360) 268-9125 if you have any questions!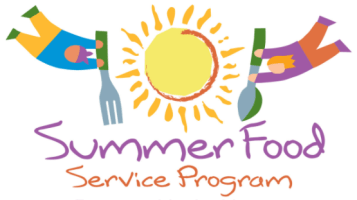 Bus changes for Monday, June 14 Morning - all routes will be on time except for Rt 5 (which will run about 15 minutes late). Afternoon - Late Routes Rt 7 approximately minutes late Rt 3 approximately 30 minutes late Thank you for your patience and understanding.
There will be a change to a couple bus routes this week. For the morning pick up, if your student rides routes 1, 2, 4, 6 or 7 their bus will be on time. If your student rides route 3 or route 5 the bus will be about 45 minutes later than usual. For the afternoon take home, if your student rides routes 1, 2, 3, 4 or 5 their bus will be on time. If your student rides route 6 they will be about 30 minutes later than usual. If your student rides route 7 they will be about 15 minutes later than usual. We are sorry for any inconvenience this may cause.

The Ocosta School District will return to full in-person learning on Monday, May 24. If your child has been required to quarantine, please contact the attendance line at the school 360-268-9125 extension 2017 for the elementary and 3014 for the junior/senior high school. The Ocosta School District is requiring a 14-day quarantine for those that have been in close contact or have a positive Covid-19 test. If your child is showing any symptoms, please keep them home and seek advice from your medical provider.

Please read the attached letter from Superintendent Sweet: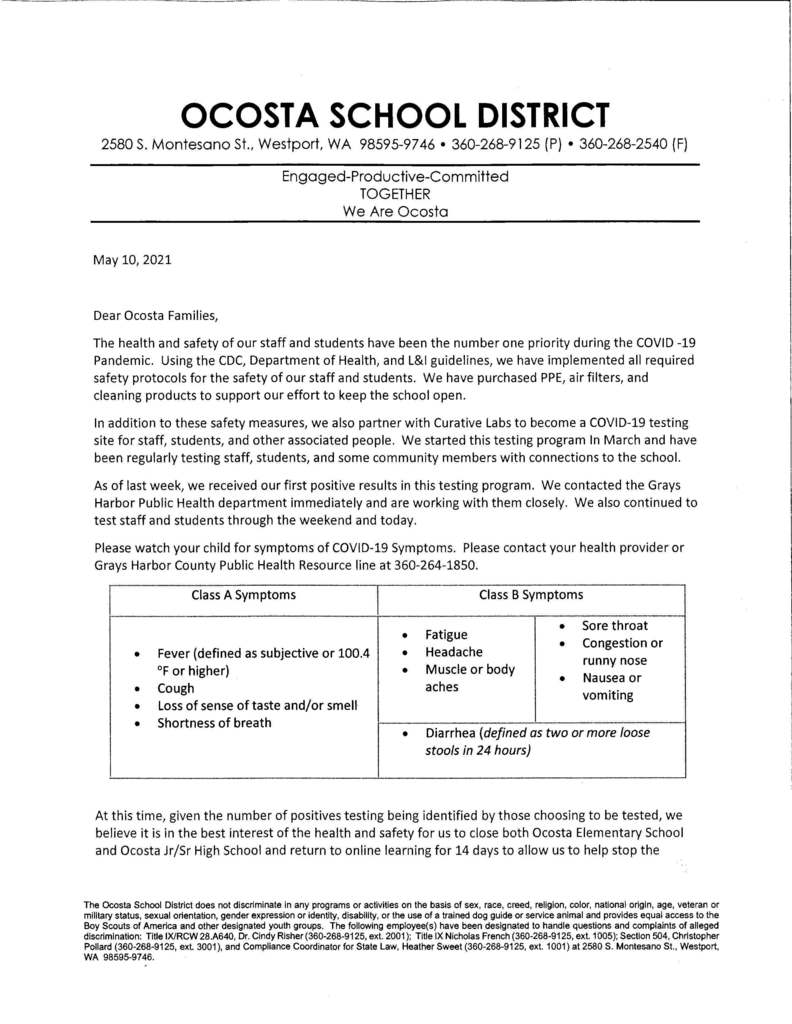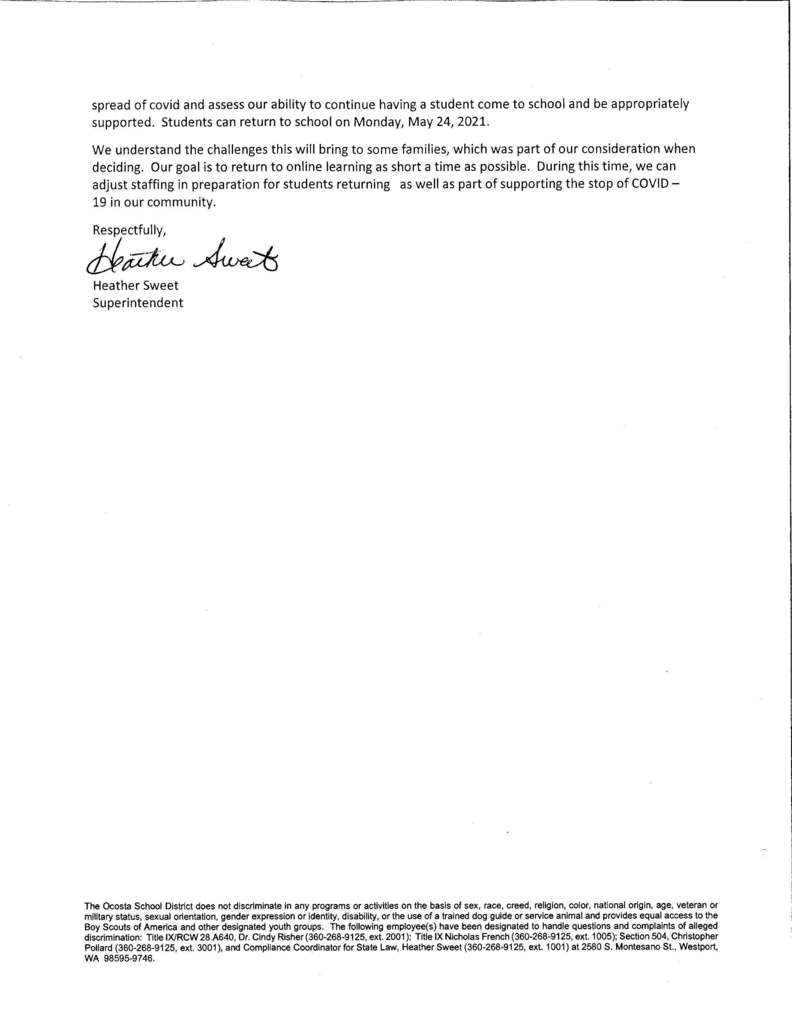 Ocosta Receives Music Grant from the Community Foundation of South Puget Sound On March 15th, the district received a letter that stated the Community Foundation of South Puget Sound approved a $15,000 grant to support the Ocosta High School Band program. The award is made from the Jack and Neddie Rose Farrington Endowment Fund. On behalf of the Ocosta School District, I would like to thank the Community Foundation of South Puget Sound for their generous donation to the Ocosta music program. Band teacher, Mr. Lakey, has great ideas for the band program and this donation will help him achieve those goals!

Ocosta Elementary will return to 4 days a week in April. Fourth through sixth grade will return to a 4 day a week schedule on Monday, April 19. Kindergarten through third grade will start 4 days a week beginning on April 26. Please go to the website for more details.